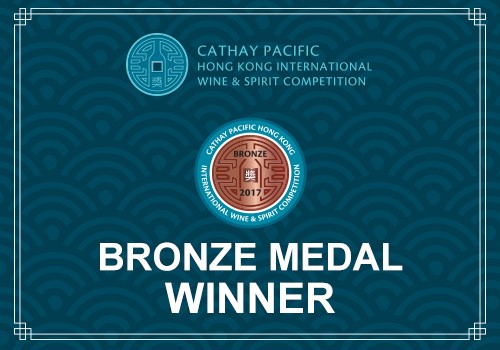 Cathay Pacific Hong Kong International Wine and Spirit Competition (HKIWSC) la manifestazione dove è stata conferita una duplice medaglia di bronzo al TerraDei, Montecucco Rosso DOC annata 2015.

In contesto Internazionale, è stata riconosciuta la sua bontà sia come Sangiovese Maremma che per il particolare abbinamento gastronomico con un piatto di carne alla griglia (In Ko Mu Yang - Grilled Pork Neck with Spicy Tamarind Sauce).

 

 
Tenute Bruni wins Bronze for TerraDei 2015 Montecucco Rosso DOC in the 2017 Cathay Pacific Hong Kong International Wine and Spirit Competition

November 2017 Tenute Bruni is delighted to announce it has won a Bronze award in the 2017 Cathay Pacific Hong Kong International Wine and Spirit Competition (HKIWSC) for TerraDei 2015 Montecucco Rosso DOC.

Considered the benchmark of quality for wines and spirits for Asian consumers, the competition is judged by some of the most esteemed wine and spirit judges from China, Hong Kong, India, Japan, Macau, Malaysia, South Korea, Singapore, Taiwan, Thailand and for the first time, Indonesia and Vietnam. 2017 saw a record judging panel of 49 judges, including five of Asia's Masters of Wine – Debra Meiburg MW (Hong Kong), Sonal Holland MW (India), Tan Ying Hsien MW (Singapore), Kenichi Ohashi MW (Japan), and Asia's newest Master of Wine, Sarah Heller MW (Hong Kong).

The judging panel is drawn from educators, buyers, media, key opinion leaders, hospitality professionals and others in the beverage industry in Asia, along with two VIP Guest International Judges – Benguela Cove Wine Estate, winemaker Johann Fourie, and Beefeater Master Distiller, Desmond Payne. Debra Meiburg MW, Founding Director, HKIWSC said, "The Cathay Pacific Hong Kong International Wine & Spirit Competition is a focal point for beverage professionals in Asia.

Recognised as the voice of the Asian wine and spirits consumer, the HKIWSC assembled a record 49 judges from 11 Asian countries in 2017, offering significant diversity and depth of pan-Asian expertise into the deciding the best wines and spirits for the Asian market. Celebrating its 9th year, the HKIWSC remains the original and most well-respected wine and spirit competition in Asia. In 2017, 33 countries entered wines and 27 entered spirits.

The awards given by the competition are believed to be among some of the highest honours in the industry. Judging integrity is at the heart of the HKIWSC and follows a two-stage process: first, the products are tasted blind by expert panels comprising 49 fully experienced and qualified industry judges, Secondly, a team from KPMG independently verifies all results before the announcement is made, ensuring the rigour and validity of the whole process. "TerraDei" Montecucco Rosso D.O.C..is made in Sticcianese (GR) Italy, from a blend of Sangiovese 90%, Merlot and Alicante. A red wine with a rubby red color, vinous and fruity, harmonious, dry and quite tannic. Into the world, from the union between the "Earth" and the man's hand, vines are grown, producing this Montecucco able to pour into the glass, poetry kissed by the Maremma sun.